CUSTOMISE YOUR SOUND
Woburn's top brass plate features controls for bass, treble and volume. The custom control analogue interaction knobs allow you to fine-tune to the exact sound you desire.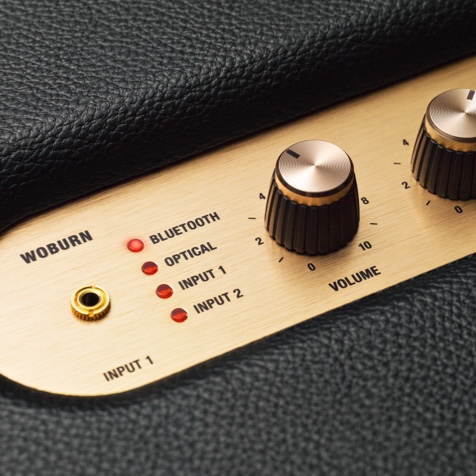 CLASSIC MARSHALL DESIGN
With its gold script logo, gold piping, vinyl casing and vintage-inspired fret grille cloth, the Woburn is an instant classic that harkens back to over 50 years of Marshall design and heritage.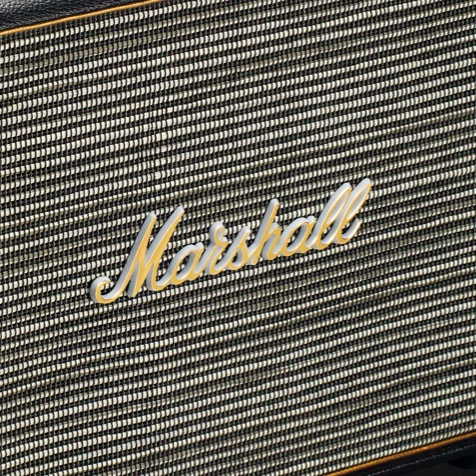 MONSTER SOUND
With unique sound design and quality components, the Woburn is built to thrill. This loudspeaker hits high trebles cleanly, handles low bass with ease, and has a clear and lifelike mid range. The overall experience is powerfully rendered music full of punch and drive.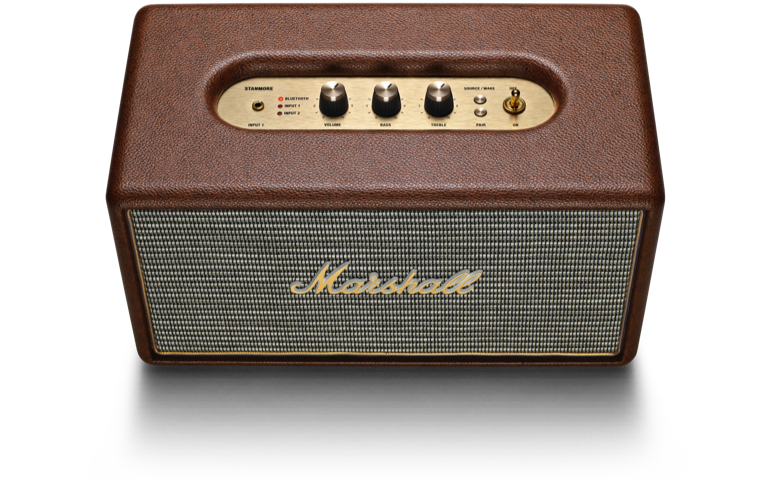 TECHNICAL SPECIFICATIONS
WOBURN BLUETOOTH BLACK
FREQUENCY RANGE
35 - 22,000 Hz
ADJUSTABLE BASS AND TREBLE CONTROLS
Fine tune your music using the analogue controls on your speaker
STEREO/MONO
Stereo
MAXIMUM SOUND PRESSURE LEVEL
110 dB @ 1 m
CABINET PRINCIPLE
Bass-reflex
POWER AMPLIFIERS
One 50 Watt Class D amplifier for the woofer
Two 20 Watt Class D amplifiers for the tweeters
CONTROLS AND CONNECTIVITY
TOP PANEL CONTROLS
Volume control knob
Treble control knob
Bass control knob
Pair button
Source/Wake button
On/Off toggle switch
WIRED CONNECTIVITY
3.5 mm Input
Optical Input
RCA Input
WIRELESS CONNECTIVITY
Bluetooth aptX
BOX CONTENTS
Woburn Bluetooth Speaker
Double-ended coil cord with 3.5 mm stereo jacks
User manual with legal and safety information
Power cord
DIMENSIONS
400 x 308 x 200 mm
15.75 x 11.40 x 7.87 in
WEIGHT
7.90 kg
17.42 lb
COLORWAYS
Black
Cream
MAINS INPUT VOLTAGE
100 - 240 V
MAINS FREQUENCY
50/60 Hz